The search for T.L. and D.R. continues
But in the meantime, I've created a delicious new breakfast popsicle for all your warm-weather breakfast needs.
Big. News. I think I've got a lock on who D.R. and T.L. are. I had to scroll through so many manifest logs, but I found 7 DRs and 21 TLs. That seems like a crazy number, sure, but then paired them up and found 3 DRs and 8 TLs who were on the same ship at the same time and from there I narrowed it down further to role assignments on ship and off. There is exactly one pairing of those initials working in the same department at the same time and within the necessary timeframe that would allow them to have been out around Outpost 3 before any official surveys began here: Taran Lockley and Dasiana Rrazne.
What's more? They were both pastry chefs from Central Outpost thirty-some years back. They were never marked missing or reassigned. It gets weirder: when I tried to message Central Outpost's Commissary Division, they were really cagey about these two names specifically and couldn't give me an answer about whether or not it would be possible to meet with either of them (yeah, I made up a story about doing a fluff piece on the new cuisines of Ocasta). They offered half a dozen other people up for interviews before I finally gave up.
Sidenote: I did learn a great new recipe in the course of my investigations, and of course I'm planning on sharing it with you today.
At least now we have names to put to the initials at Angel Outpost. Vee and I are planning to head back up there this week; hopefully I'll have a better update for you all in my next transmission. In the meantime, enjoy these creamy, decadent popsicles for breakfast or any other meal because you are an adult and you eat what you want!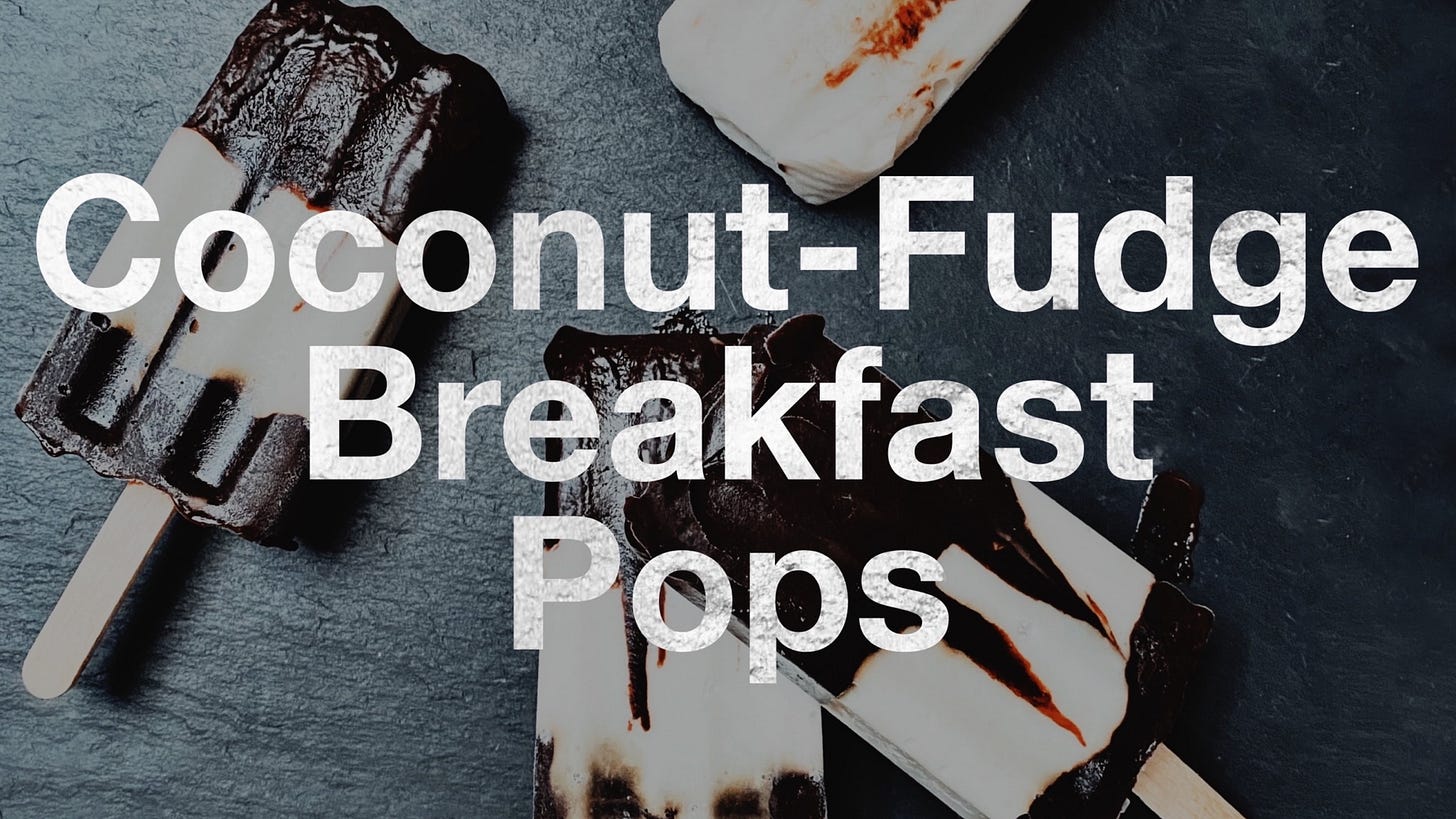 Spiced Frozen Hot Chocolate and Coconut Fudgesicles
Some notes: These breakfast popsicles are actually two different recipes layered, so feel free to make only the spiced frozen hot chocolate pops or only the creamy coconut bars, or play around with the different amounts of the mixture in each pop. The level of spice in the chocolate bars is entirely up to you, too. Swap out the cinnamon and cayenne for something lighter if you like, or just omit it altogether and let the decadent chocolate shine through.
For the cocoa, I like to make mine extra rich sometimes by swapping out ¼ cup of my regular Dutch process cocoa powder with black cocoa powder. If you can get it and you're a fan of Oreo cookie wafers, I highly recommend. If not, no stress.
Xanthan gum also is optional, though in my trials I found it provided a slightly creamier/less ice-crystal prone popsicle in the end. If you don't have any, don't sweat it. These will still be delicious.
The number of popsicles you get will depend on the size of your molds. My mold makes 3.2 ounce pops and I get 14 popsicles from this recipe as written here.
For the spiced frozen hot chocolate layer:
¾ cup sugar

¾ cup unsweetened natural or Dutch process cocoa powder

1 ½ tablespoons cornstarch

1/8 teaspoon salt

1 teaspoon ground cinnamon (optional)

A dash or two of cayenne pepper, to taste (optional)

Also optional: If you have some instant coffee, throw a few packets in to make these mocha bars. That's extra-breakfasty, if you ask me.

3 cups milk, any percentage (the lower the fat the icier these will be, so keep that in mind. I make mine with 2 parts milk and 1 part heavy cream, for extra decadence. You can definitely also make these vegan by using plant-based milks.)

½ teaspoon vanilla extract (optional)
Have a silicone spatula and a heat-proof pitcher to pour the mixture into on hand near your stove. This stuff will be quite hot and you'll want to be ready to pour it.
1. In a medium saucepan, combine the sugar, cocoa powder, cornstarch, spices and salt with a whisk. Whisk in just enough milk to make a smooth paste, then whisk in the rest of the milk. This helps keep the mixture from forming any dry cocoa lumps.
2. Bring the mixture to a simmer over medium heat, stirring constantly with the whisk. Be sure to scrape along the sides and bottom of the pan to keep the cocoa mixture circulating—it likes to settle. When the mixture begins to bubble at the edges, continue whisking and cook for two more minutes. It should feel about as thick and pourable as cake batter when it's ready.
3. Take the mixture off the heat and whisk in the vanilla, if using. Scrape the mixture into your pitcher or pouring vessel. You can start filling molds now or you can set it aside while you make the coconut layer, if using.
For the coconut creamsicle layer:
1 13.5-ounce can of full-fat coconut milk (Note: not all coconut milks are created equal! Try to get one that has stabilizers in it like guar gum, or else your coconut layer runs the risk of separating as it freezes)

4 tablespoons granulated sugar

¼ cup unsweetened shredded coconut

1 teaspoon coconut or vanilla extract

1 pinch of salt

1/4 teaspoon xanthan gum, optional
1. In a saucepan over medium heat, combine all ingredients except for the flavor extract. Cook, stirring from time to time, until the sugar is dissolved and the mixture just barely reaches a simmer. Remove from heat and whisk in the coconut or vanilla extract.
To assemble the pops:
Pour a small layer of the chocolate mixture into each mold, then divide up the coconut mixture into each. Top with the remaining chocolate mixture.
If your popsicle molds don't have lids to hold the sticks up, put your pops in a freezer for one hour, then add sticks and put them back to set for another 6-8 hours or overnight. If you have a lid for your mold, place that on top then add the sticks and put the pops straight in the freezer for 6-8 hours or overnight.