The loftiest tops, the prettiest rain
Good morning, Earthlings, I have a delightful cinnamon muffin recipe for you today.
There is purple rain falling outside my window right now. Actual purple rain, glittering and shimmering like something out of a fairy tale in the cold, logical white rays of the work lights set up all over the outpost. The weather specialists are saying it's something to do with the oceanic atmosphere pushing the bioluminescent creatures up into the rainclouds. They're having a great time out there monitoring all this and collecting samples and whatnot.
Most of us are stuck inside, however. The storm is hitting hard, and even the forest with its perpetual haze of damp and moss is looking a bit overwhelmed. Rivulets and streams have formed where our meager hiking trails were just yesterday. A few mudslides have already been reported, and an expedition truck is currently stuck in one just outside the gates.
So of course that means more baking in this kitchen! It's something to take my mind off the mysterious Angel Outpost for a little while, at least. In case it wasn't obvious by now, I am a massive cinnamon lover. I put it in just about every baked good, the more the merrier as far as I'm concerned. Usually when sharing recipes with others I scale it back, but not with these muffins. This recipe is a carb-forward muffin-shaped shrine to the spice.
Okay, so here's some tips about this muffin recipe. For the loftiest muffin tops you can get, you want to follow some important steps:
Tip #1: You want to chill this batter. Patience is key, I promise. Chill it for at least an hour, but you can make this at the end of your day and chill it overnight for easy, fresh muffins in the morning, too. Remember: at least one hour of chill time!
Tip #2: Be careful about overmixing. In fact, I wouldn't even bother doing this one in a stand mixer unless you really just want to use it for personal reasons. A whisk and a good sturdy spoon is all you need for this recipe, and mixing by hand makes it harder to overmix. Overmixing will lead to a less-tender muffin.
Tip #3: Put your oven rack in the top 1/3 of the oven for this recipe. And make sure it's well-preheated before you put your muffins in: you want it nice and hot for that initial rise!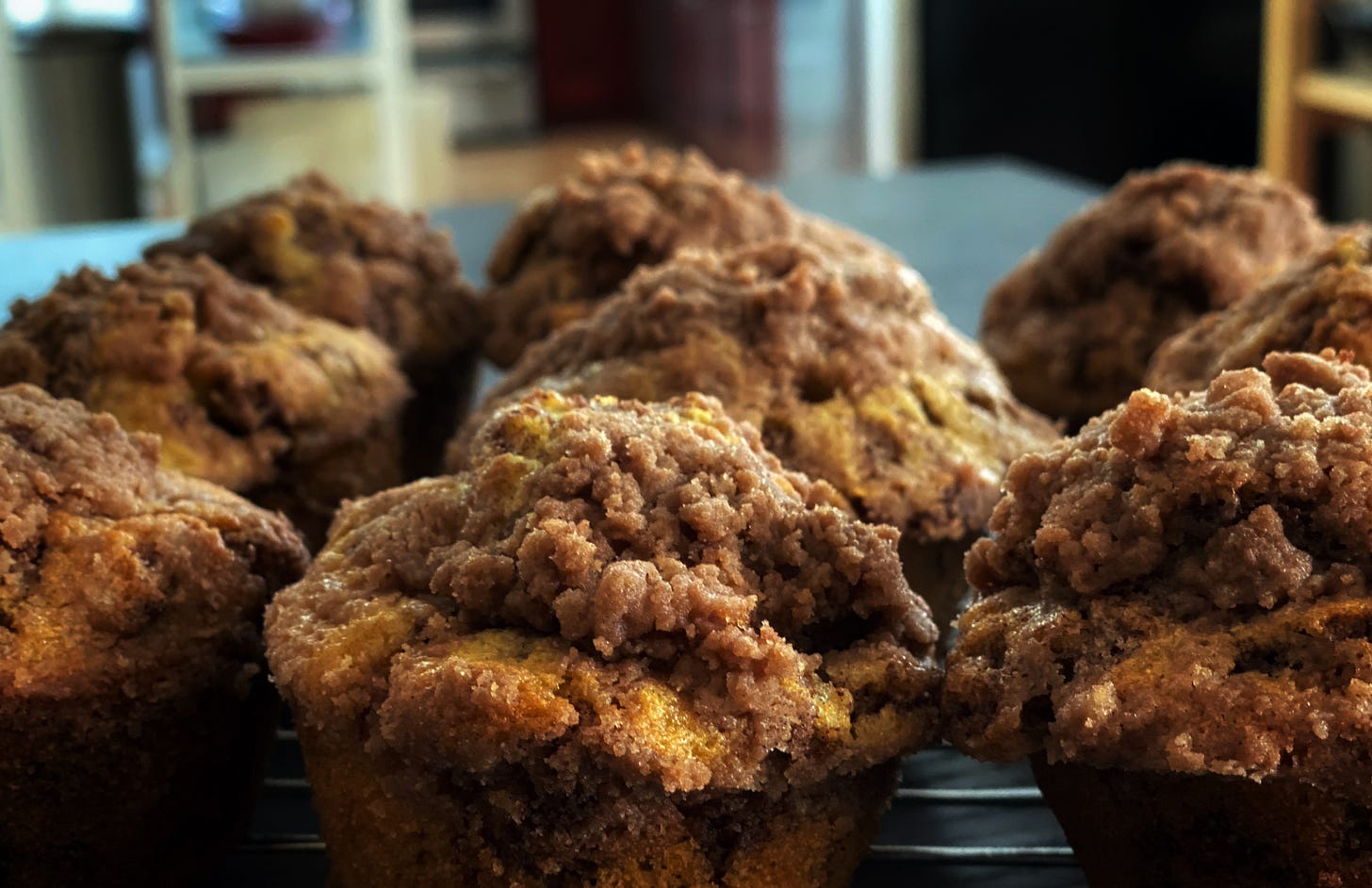 Muffins for the Cinnamon-Obsessed
For the muffins:
1 1/2 cups all-purpose flour

1/2 cup cornmeal

1/2 cup white sugar

1 tbsp baking powder

1 tsp cinnamon

1/2 tsp salt

1 egg

2 tsp vanilla

3/4 cup buttermilk (fresh or rehydrated from powder)

1/3 cup neutral vegetable oil

1 cup cinnamon chips (you can buy these at King Arthur Flour or make your own)
For the topping:
1/4 cup white sugar

1/4 cup AP flour

3 tbsp coconut oil (or butter, softened but not melted)

2 tsp cinnamon
Directions:
Whisk together the flour, cornmeal, sugar, ground cinnamon, baking powder, and salt in a large mixing bowl.

In a smaller bowl, whisk together the egg, vanilla, milk, and oil.

Pour the wet mixture into the dry mixture and stir with a sturdy spoon or silicone spatula until fully combined. Fold in the cinnamon chips. Cover bowl with plastic wrap and refrigerate for at least one hour or overnight.

When ready to bake: Preheat the oven to 425 F and prepare the crumb topping by mixing all topping ingredients together until coarse and crumbly.

Line a muffin tin with paper cups, or grease with butter/oil. The number of cups you need will depend on how big you like your muffins. This recipe will make 6 jumbo muffins or 12 small muffins. I went in the middle and made 9 generously-sized muffins in a normal-sized tin.

Scoop cold muffin batter into your prepared tins, filling each nearly up to the top. Sprinkle generously with crumb topping.

Place in the upper 1/3 of your preheated oven and bake at 425 F for 8 minutes. After 8 minutes, lower the temperature to 350 F and bake for another 10-12 minutes, until the tops are golden brown and a toothpick comes out clean.

Allow to cool for a few minutes in the pan before handling, but do not cool the muffins completely in the pan or the insides will steam and they'll turn claggy. Finish cooling on a wire rack and enjoy warm.