Angel Outpost Coffee Break
The best coffee cake in the galaxy
I'm writing this entry on very little sleep, so apologies in advance for the brevity. After we went back to Outpost 3 long enough for a shower and a change of clothes, Vee and I hiked right back to Angel Outpost with some fresh supplies. Sam and Pele are spooked; they don't like the implications of a secret and seemingly abandoned outpost so close to our new home, and I don't blame them. But never fear, dear earthbound readers, your friendly neighborhood investigative reporter is on the scene.
While Vee has been busy trying to crack into a secured tablet we found duct taped to the underside of the bed, I decided to make myself useful by fiddling with the little oven here and baked us a coffee cake. It's something for my hands to do, anyway, after I snapped as many pictures and film clips as I could. We're leaving nothing undocumented in here.
So this coffee cake recipe. I don't often call things perfect but… yeah, this is pretty close. It's tall and fluffy and rich, spice-kissed, comforting, with a delightful crumb topping that gets everywhere. I found it in an ancient cookbook from mid-20th century America. Apparently this used to be served in public schools. Lucky kids! I cut the recipe in half, since we don't have a lot of ingredients to work with here and it's just for the two of us. As-is, my recipe will make 9 hefty cake chonks. If you want more, definitely double the whole thing. It also freezes beautifully.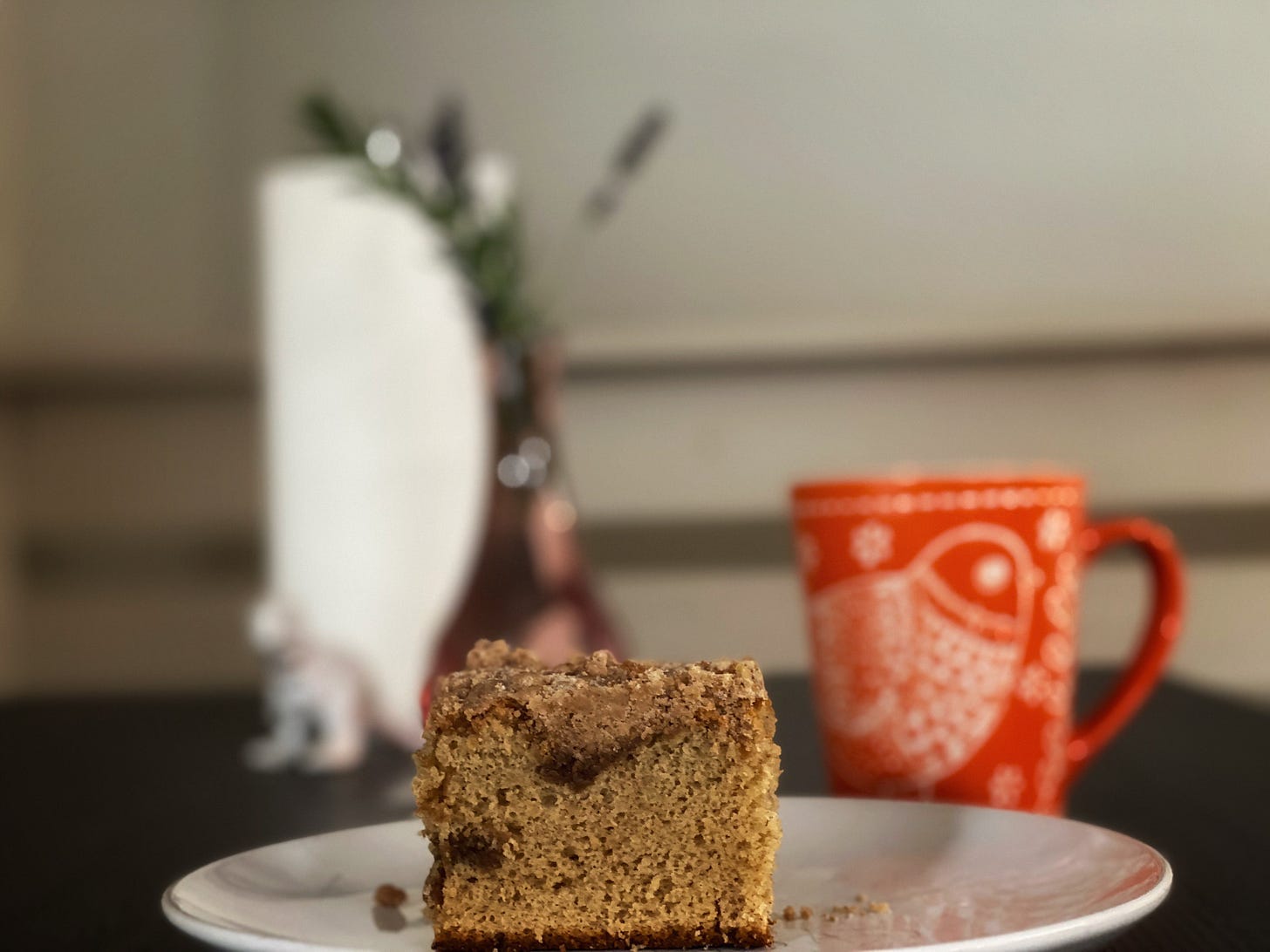 LA Unified School District Coffee Cake, Modified For the Apocalypse
Grease and/or line a 9x9 pan | Preheat oven to 375 F
FOR THE CAKE
1 tbsp vinegar (I used apple cider vinegar)

3/4 cup water

240 g flour (I used 1/2 AP and half cake flour, to stretch my AP flour more for other projects)

1/4 c + 1 tbsp powdered milk

3/4 tsp salt

1/2 tsp nutmeg

1 tsp cinnamon

1 3/4 tsp baking powder

1/2 tsp baking soda

130g butter or oil (I used coconut oil)

110g brown sugar

100g white sugar

1 egg
1. Mix vinegar with water and set aside.
2. Mix flour, powdered milk, salt, nutmeg, cinnamon, baking powder, and baking soda together in a medium bowl and set aside.
3. Cream oil with the brown and white sugar. Beat in egg and mix for 1 minute.
4. Alternate mixing in the flour mixture and the vinegar/water mixture into the oil/sugar/egg mix until fully incorporated and beat for 1 minute.
5. Pour batter in to prepared pan and top with crumb topping.
6. Bake for 45-55 minutes, until a cake tester comes out clean.
FOR THE TOPPING
1/2 cup + 1 tbsp AP flour

3 tbsp brown sugar

3 tbsp white sugar

1/2 tsp cinnamon

1/4 tsp nutmeg

pinch of salt

2 tbsp butter or oil
Mix all together until crumbly and saturated. Sprinkle over cake batter before baking.