And we're back! With fruit salad!
Well hey! Been a hot minute since you last heard from your old pal Harper, hasn't it? So the good news: I'm not dead or being detained in a secret military prison! Yay, me.
I'd love to have an exciting story for you about where I've been, what I've been up to. Have I found out who D.R. and T.L. are yet? No. Have we discovered what was going on in that trailer? Also a negative. Have I even been granted records access clearance?? YES, ACTUALLY! Just yesterday, in fact.
Finally a win, right? So what have I been up to, if not cracking the case of the mysterious top secret trailer in a supposedly uninhabited zone of this planet? ...Binging television, mostly. Putting together some aesthetics boards to help soothe my mind. A lot of baking. Talking to my glowy alien sourdough starter.
The thing they don't really tell you in the movies, about crossing a galaxy to start a life on a new planet, is that all your brain stuff comes with you.
Yeah, the doctors go over this sort of thing when you're applying for the migration. And they monitor you constantly aboard the ship. There are therapists available at all times and they're honestly amazing.
But once you get here and you get assigned your little corner of a new world and you've been given leave to go about your new life? Well, the therapists are still around but you're not on board a ship anymore waiting for the next big chapter of your life to happen. You're IN that big chapter, and it's scary and bigger than you ever imagined, and there's lots of things similar to but not quite like life as you had always known it, and you start to wonder every morning: was this a big mistake?
What would I be doing back on Earth right now if I'd stayed? What if the partner of my dreams is back there somewhere and now I never meet them? What if I was supposed to be adopting the goodest puppy this morning and now because I selfishly chose to go to Ocasta that puppy is never going to get adopted and it's going to spend the rest of its life in a cage with no one to snuggle it and give it treats and take it for long walks? What if I never get to taste real oranges again? What if I just stay in bed today and never leave it again except to go make more tea?
So that's what I've been working through. Alone, at first, but I knew I couldn't keep that up forever so I contacted my therapist here at the outpost and she said it wasn't that uncommon. In fact, there's a whole support group here for others going through similar internal crises. I joined up a few weeks ago and even though it felt weird to put on pants and I had to walk myself through a minor panic attack just stepping foot outside my hab unit, I made it there on time.
We meet once a week now, and those meetings have become a sort of informal potluck for those of us who enjoy cooking as a self-soothing activity. One of my fellow attendees brought in the liveliest fruit salad this week, and I swear a bite of it was like eating a miniature sunrise.
I won't go so far as to say it cured me of all my anxiety and depression at first chomp, but it was a little crack of light in a very dark sky. I felt so inspired for the first time in months. My mind was thinking: is that lime zest mixed in the honey? Is that slow warmth a little zing of hot pepper? In a fruit salad? I had to replicate it at home, and just that small activity in the kitchen was enough to shake me out of my funk to start experimenting with new recipes of my own. I even took the sourdough starter out of stasis (its name is Duchess, by the way).
The salad's creator generously agreed to let me share the recipe with all of you and so here we are, firing up the journal again. It's good to be back, friends. Enjoy. May it bring a little light to your table no matter how dark the times. Take care of yourselves.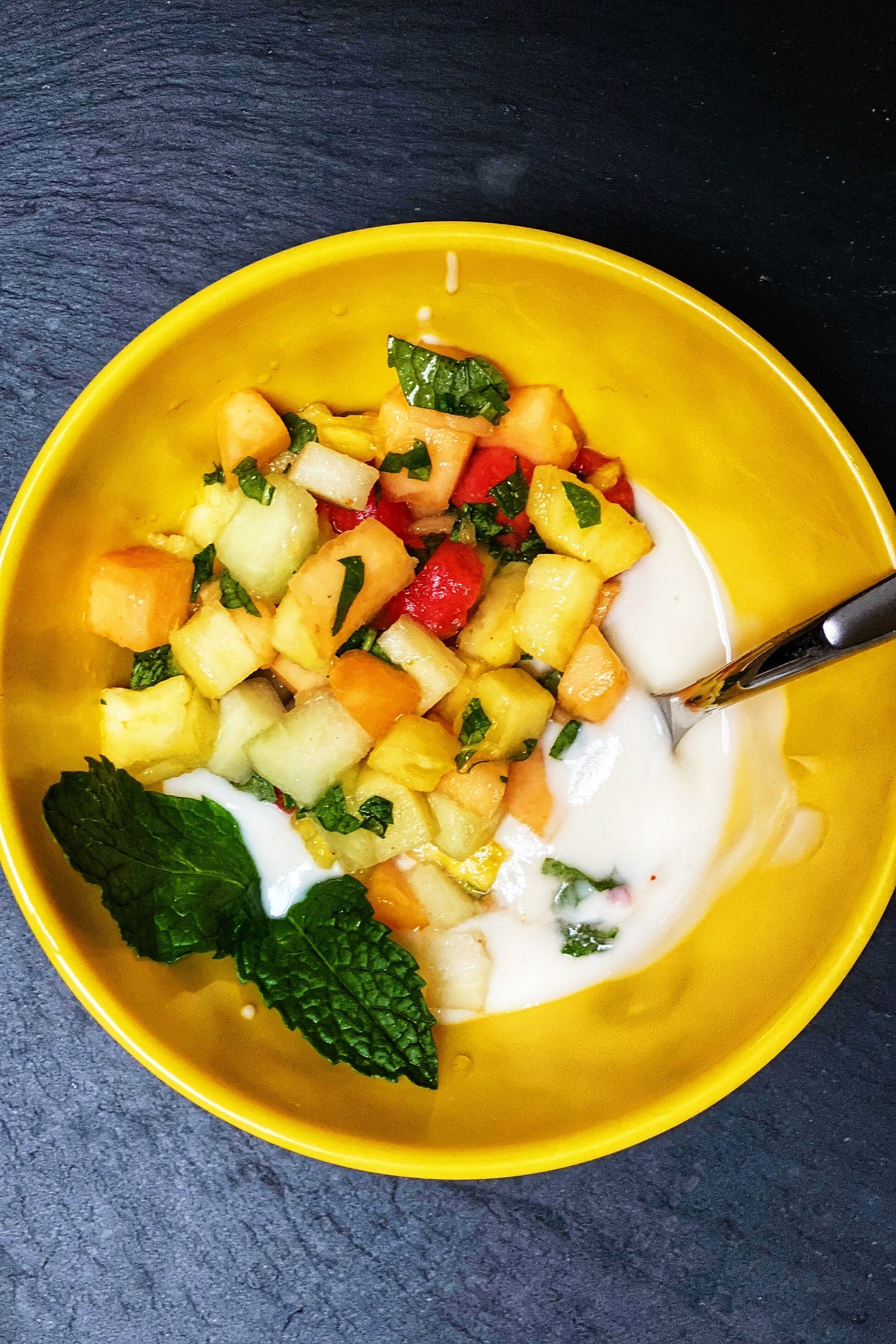 Fruit Salad with Spicy Honey Lime Dressing
For the salad:
8 cups assorted fresh fruit of your choice, diced (I recommend equal parts pineapple, watermelon, mango, and melon with some berries tossed in as a good starting point)
For the dressing:
1/4 cup fresh lime juice

1/4 cup honey

1 tablespoon neutral oil (I used melted coconut oil)

Zest of 1 lime

1/4 cup finely chopped fresh mint leaves

A dash of cayenne pepper, to taste

A sprinkling of flaky sea salt, to taste
Dice all of your fruit and mix it up together in a large salad bowl

In a small bowl or jar, whisk together the honey, lime juice, lime zest, and oil. Whisk in mint leaves.

Pour dressing over chopped fruit and toss to coat.

Season with hot pepper and salt and serve immediately.
This salad is wonderful by itself or layered in bowls with yogurt and granola.
Serves 6